At Watermill Kitchens we recognise there is a demand for quality, handmade kitchens at sensible prices. All of our kitchens are bespoke and are designed specifically for your needs; whether you would like a whole kitchen built from scratch, a partial upgrade or simply made-to-measure replacement doors.
Our kitchens are traditionally made with our solid wood cabinets, doors and dovetailed drawers all being handcrafted right here in Cornwall. The kitchens are typically of a farmhouse/country style but we are able to incorporate the very latest high spec appliances and technology into the design. Alternatively we can offer very contemporary styling which sits well with both new and old properties.
We offer a comprehensive service that will guide you right through from concept to installation. From the outset, everything from the architectural style and proportions of your property, to the way in which your kitchen will be used is carefully considered.
Units can be fitted or freestanding, finishes can be professionally hand-painted, oiled or waxed and we offer a range of wood or stone worktops.
We do offer a "supply only" option should you choose to fit the kitchen yourself or have a contractor finish the project for you.
Please view our gallery to see some of our latest projects.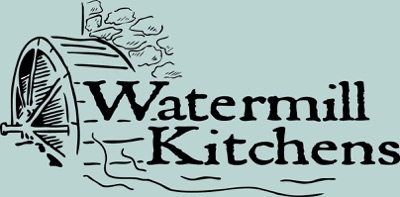 Bespoke design
Every commission that we undertake is unique. There are no standard styles or sizes, each piece is handmade and finished to suit your home, lifestyle and budget. We offer a full design, build and installation service to maximise your kitchen's potential in both design and function. Cabinets can be made to align with window sills or existing appliances such as AGA's.
Initial visit
At Watermill Kitchens we offer a very personal service from the beginning, and aim to make the whole process as efficient and enjoyable as possible. On the first visit to your home Glen will listen to your requirements, how you use the space, what you love and hate about your existing kitchen, the storage space needed and the overall look you are aiming for. He will take initial measurements to work out your free, no obligation quote. Glen will discuss time scales with you and any budgetary constraints as different materials can be used to help with costs.
The plans
Glen will use the measurements taken to draw up detailed drawings of the proposed kitchen. We will provide an itemised quote listing the build cost for each unit and the painting cost. The initial quote can always be amended as it is often possible to incorporate design modifications as the build progresses.
The build and installation
Once the design of the kitchen has been agreed a time frame for the build and installation will be established. Although it does take longer to build and finish a bespoke kitchen we always aim to give you a realistic time schedule as we appreciate other building works may need to be arranged. The fitting team are efficient and try to keep the disruption to your home to a minimum.
Supply only
We offer a supply only service for those customers that want to fit the kitchen themselves or have their contractor finish the project for them. Customers may want to finish the units themselves and Glen is happy to advise them on the process. In these cases we just need a time schedule from you for delivery.
Restoration
At Watermill Kitchens we can also give your existing kitchen a new lease of life by painting the outside of all your units, replacing handles or adding extra features. You may wish to keep your existing carcasses and have new doors made, drawers added or additional units made. We can help with under unit lighting or give advice on lighting in general incorporating the new energy efficient super bright LED lights.